Alps Accommodation  Sponsors  French Rugby Star - (of course, he's a skier too!)
When you ask Lucas Pialat, the recently-signed Brighton Blues RFC First XV Fly Half which sport he prefers – skiing or rugby – rugby has to come first.
However, this engaging 22 year old French rugbyman from Toulon is a keen skier so he is delighted that Alps Accommodation will be his sponsor for the coming season. We will be supplying Lucas with Brighton kit plus support and encouragement from our own winning team here in Samoëns.
Last year, Lucas played for RC Thonon, (Division Fédérale 3) so the bracing air of breezy Brighton, the Sussex coastal town, is in contrast to the snow and cold of the alpine mountains surrounding Thonon. The local cuisine and beer are very different, too!
Lucas is enjoying the experience of joining the newly-promoted London Division One South club. This year, Brighton have strengthened the depth of their senior playing sides with fresh talent – including their Gallic Fly Half. With good wins against arch-rivals Hove, plus Dover, Sidcup and Staines already under their belts, it promises to be an exciting season. Lucas has shown his skills with brilliant passing, adaptability and great tackling. The team are impressed with his speed and anticipation – classic French rugby specialities!
"It is a great honour to play for such a successful team," says Lucas, "Having won the RFU Intermediate Vase trophy at Twickenham last season, Brighton was a top choice for me when I planned a year in the UK to strengthen my English and my rugby."
Together with girlfriend Marjorie Liaumon, Lucas is living in a flat in Brighton and working for a local developer. "My job in France is in sales and commerce," he says, "but it is great to do some outdoor work, and good for my training." Marjorie, 21, is hoping to gain valuable professional experience as a makeup artist in the UK.
"We have been together for four years," she says. "This is a big adventure for us. I am sure we will make many friends. Lucas' rugby must take priority and it is a long season, but we hope to visit Samoëns, meet our sponsors and ski with the Alps Accommodation team."
She adds: "The warm welcome from the Brighton players and club members has been très sympa.  Entente Cordiale at its best. "
Lucas' career started when he played rugby as a youngster of 15; since then he has played top class rugby for 1st Division Toulon, Bourgoin-Jallieu (CSBJ) (2nd Division, and located in the Departement of  Isère, near Lyon,)  and   for established Haute Savoie stars, RC Thonon (3rd Division) : "I was working in Switzerland, so the town was just over the border, " he says. "Thonon is a great club, and, like Brighton, it has an excellent Ecole de Rugby and junior and mini section, bringing on top players of the future."
The couple are impressed by the diversity of Brighton restaurants. "Eating here is like a world tour, "says Lucas. "The pubs are superb but the cheese is not so good here as it is in France! My favourite is the Tomme Abondance from the village of Abondance in the Haute-Savoie – I ate plenty of it when I played for Thonon. It was produced by monks in the 14 century -  each round cheese weighs 10 kg. and is rich and delicious. It would go well with a few pints of English ale! "
We'll be reporting on Lucas' and Brighton's progress through the 2013/14 season and look forward to welcoming London One South players and their families to the finest selection of Alps Accommodation managed and owner-managed chalets and apartments here in sunny Samoëns and friendly Morillon - where the beer is cold, the skiing and boarding are awesome, at all levels, the food is scrummy and the atmosphere is  ruckin' brilliant!
(For full details of Brighton Blues' games  in South East London and the South Coast this season, reports and info, log onto www.Brightonblues.co.uk )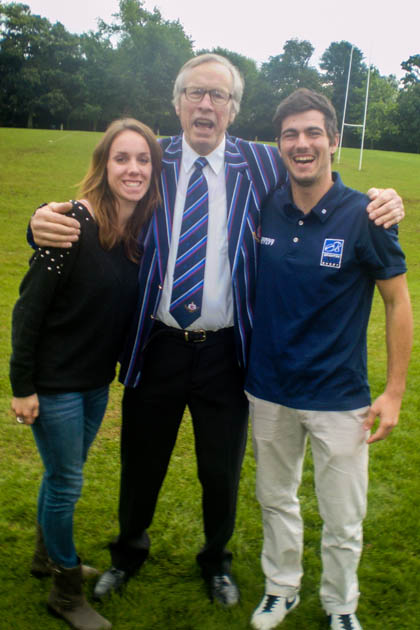 Rugby Elite, past and present   Lucas and Marjorie with Pat Ward-Lee, Honorary Life Member and former President of the Brighton Blues, and regular Alps Accommodation client. Spot Pat this Christmas sporting that dazzling blazer in Covey's Irish Pub! (you couldn't miss him!)