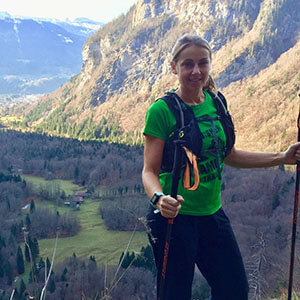 Arriving here in 2004, with all that we owned in the back of the removal van, I haven't looked back. Tom and I are extremely passionate about our business Alps Accommodation, which we are still working hard to develop and ensure it remains a leading provider for guests to find their perfect accommodation. Initially we started the business with just the 2 of us, running a fully catered chalet, while also providing cleaning and management for 3 other apartments. This soon led to Alps Accommodation offering over 80 properties on our website, so it certainly makes all the hard work worthwhile, with so many challenges along the way, there is never a dull moment!
My background in the industry started at the age of 20 as a chalet girl, in the middle of a degree in business studies. After graduation, I completed a summer season and further ski season, then established a career for around 8 years in HR and recruitment in the IT and Travel industry. Alps Accommodation seemed such a natural choice when we decided to fulfill our dream of running our own business. Samoëns is certainly the best place in the world to live, work and raise our family. As a true part of the community here, I certainly live and breathe our business and mountain life.
Activities and sports I love most here in the mountains? All of them!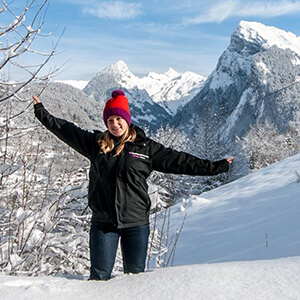 After finishing at the University of Glamorgan with a degree in Psychology and Criminology I decided to do a ski season in Val d'isere to learn how to ski. Those 6 months had me hooked and wanting to do a second season, ending up in Samoëns in 2009, and the rest is history!
Joining Alps Accommodation as a Property Assistant, I was then promoted to Property Manager and bought into the office here in Samoëns to assist Tom and Ali, and I've been in my current job now since 2012. I deal with guest enquiries and bookings, and providing general customer service to guests, liaising with property managers and owners, and handling the accounts.
I came for the winter but it's the summer that really made me stay. The skiing is great in the winter, and in the summer you've got all that extra day light to make the most of the day. I can do a full days' work and still have time to do something active in the evening on those long summer days!
In the winter I love alpine skiing, ski-touring and cross-country, snow-shoeing, baking and eating various forms of melted cheese! In the summer I love mountain biking, trail running, hiking, swimming in the lakes, climbing, BBQ's by the river.
There is no choice here, but to be incredibly active, there's so much on offer all throughout the year. It's such an amazing place to live, it's very rare for myself and my partner Paul not to be on the mountain doing something on our days off and soak up the view of all the surrounding mountains. People often ask if I get bored of the view, the answer is never! It changes so much through the seasons, I still think 'wow, I actually live here'.
Paul McLean  – Website and Social Media Manager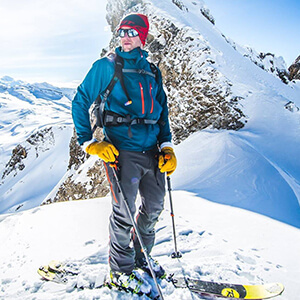 Before arriving in Samoëns, I lived in Edinburgh, working in IT at a private school, while also playing rugby and enjoying the mountains of Scotland. Having completed a ski season in Val d'Isere during the 2008/9 winter, I decided to do a last ski season, arriving in Samoëns in December 2009, working as a Property Assistant for Alps Accommodation. Many years later, I'm still here! I was won over and I was soon promoted to become the resort representative, then to heading up resort maintenance and operations. My role today is predominantly office based managing our website, as well as handling the photography and content for our ever growing portfolio of properties. I also manage the Alps Accommodation social media channels, so make sure you are following us on the likes of facebook and twitter!
This isn't just another ski resort for me, it's a real, authentic, working village, which just happens to have ski lift linking it to an excellent ski area. It is a year round community of friendly people who share a love of mountains and the outdoors. As a keen outdoor enthusiast, and a Scotsman, the alpine climate is a big draw with cold snowy winters and long hot summers. Visitors are often surprised to find out it can be -10oC in winter and +35oC in summer!
In the winter it's all about skiing, either on the excellent off-piste routes in the Grand Massif ski area, or ski touring. The valley has so much great terrain to explore and so many fresh tracks to be had if you are prepared to earn it the hard way! In the summer mountain biking is my main activity, with lots of hiking and rock climbing too.